Theresa May chose NOT to speak to residents of Kensington yesterday and snubbed the survivors of the tower fire but today her spin masters are out in FULL FORCE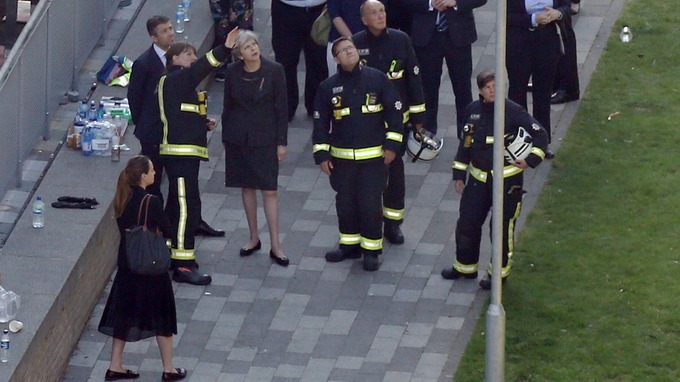 The Queen is even meeting with Kensington residents as I write this.
Theresa Mays spin masters are out in full force today after Dictator May snubbed the Kensington Residents and survivors of Grentfell tower yesterday.
She has been SHAMED into visiting the hospitals where survivors are being treaated today.
Sajid Javid said the Prime Minister is a "person of action and wants to help".
Theresa May didn't meet Grenfell Tower survivors because 'people show emotion in different ways', he says.
Number 10 said yesterday the purpose of the visit was to get a briefing from emergency services personnel.
And Defence Minister Tobias Ellwood said last night there were "security concerns" surrounding her visit.
Communities Secretary Sajid Javid said it was right for the Prime Minister to visit the site yesterday, but excused her decision not to meet the public.
He told Sky News: "I think it was absolutely right for the Prime Minister to visit, and to visit early on.
"I think what she wanted to do was to speak to the people working on the ground, on the recovery operation, the rescue operation to make sure they've got everything that they've got and see how she could help.
"I think it was important to help by asking what more government can do."
Asked why she didn't meet with locals, he said: "Different people show their emotion in different ways. The Prime Minister is a person of action and she wants to help. One of the first things she did as soon as she came back to Westminster was authorise the release of emergency funding for the local authority to make sure that they'd got every resource that they need.
"I'll be visiting myself later this morning, again with the local authority, with volunteers, I'll be meeting victims because, again, I want to make sure that in terms of the recovery effort, everything that is required is there and available and together we're doing everything that we possibly can."
Residents and survivors disagree and are furious they were snubbed by May one said "She obviously thinks she is more important than the Queen if she refuses to speak to the public yet the Queen has met many of them"
PLEASE COMMENT BELOW. The Site is open to the public. Therefore, consider your comments carefully and do not include anything in a comment that you would like to keep private. By uploading or otherwise making available any information to the Author in the form of user generated comments or otherwise, you grant the Author the unlimited, perpetual right to distribute, display, publish, reproduce, reuse and copy the information contained therein. You are responsible for the content you post. You may not impersonate any other person through the Site. You may not post content that is obscene, defamatory, threatening, fraudulent, invasive of another person's privacy rights or is otherwise unlawful. You may not post content that infringes the intellectual property rights of any other person or entity. You may not post any content that contains any computer viruses or any other code designed to disrupt, damage, or limit the functioning of any computer software or hardware.
This website is provided free of charge but relies on the generosity of its readers to help us continue our work. If you can afford it could you please donate HERE thank you.